In Japan, the spirit of kigumi—the craft of jointing wood—is deeply ingrained everywhere. Endowed with bountiful forests, an intimate awareness of trees has existed since antiquity, and various items have been created by jointing wood. Everything from small vessels and furniture used in everyday life, to wood-framed dwellings, have all been made using kigumi. However, by merely looking at the surface appearance of the finished work, it is difficult to truly comprehend the craft and aesthetics of kigumi demonstrated by these exceptional artisans.
In this exhibition, we have deconstructed all kinds of kigumi for this reason. Various wood joints are exhibited in their disassembled state—traditional wood joints, unusual joints, and joints which surprise you as their secrets are revealed. Western wood joints, as well as wood puzzles, are also featured within the exhibit. We hope to reveal the beauty of kigumi—the artisan's aesthetics and careful attention which is particular to handcrafted carpentry, and the soft textures and subtleties distinct to natural wood—through this exhibition's works.

Venue
Takenaka Carpentry Tools Museum
7-5-1 Kumochi-cho, Chuo-ku, Kobe 651-0056, Japan
Period
October 12, 2019 (Sat) - December 15, 2019 (Sun)
Hours
9:30 - 16:30 (Last admission 16:00)
Closed
Monday (The following day when Monday falls on a national holiday)
Admission
Adults500yen / Students (College / University, High School) 300yen / Children (15 and under) Free / Seniors (65 and over) 200yen
Organizer
Takenaka Carpentry Tools Museum
with the support of Kobe Shimbunsha
Access
Shinkansen:
Take the Sanyo Shinkansen to Shin-Kobe station and exit from the Central Exit. The museum is a 3 minute walk away.
Subway:
Take the Kobe Municipal Subway (Seishin-Yamate Line) to Shin-Kobe station and exit from North Exit 2. The museum is a 3 minute walk away.
City Loop Bus:
Take the City Loop bus to "12 Shin-Kobe Station (2F)." The museum is a 3 minute walk away.
Kobe City Bus:
Take the Kobe City Bus (Line 2 or Line 18) to the "Kumochi 6-Choume" stop. The museum is a 2 minute walk away.
Inquiry
Takenaka Carpentry Tools Museum
TEL: +81 (0)78-242-0216
7-5-1, Kumochi-cho, Chuo-ku, Kobe 651-0056, Japan
website
leaflet PDF (orange) leaflet PDF (blue)

Venue
Toyota Commemorative Museum of Industry and Technology
1-35, Noritake Shinmachi 4-chome, Nishi-ku, Nagoya 451-0051 Japan
Period
January 11, 2020 (Sat) -  April 5, 2020 (Sun)
* Toyota Commemorative Museum of Industry and Technology will be closed until April 6(MON) due to preventing the spread of Coronavirus Disease COVID-19.
* Closing period might be changed.
Hours
9:30 - 17:00 (Last admission 16:30)
Closed
Monday(The following day when Monday falls on a national holiday)
Admission
Free(※Entry to the Permanent Exhibit requires a separate ticket.)
Organizer
Takenaka Carpentry Tools Museum
Co-Organizer
Toyota Commemorative Museum of Industry and Technology
Sponsor
Takenaka Corporation Nagoya Branch Office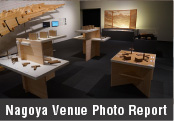 Access
Railways(Meitetsu)
3 minute walk from Sako Station on the Nagoya Line
Me∼guru Nagoya Sightseeing Route Bus
Broad at Nagoya Station Bus Terminal Platform No.11 ;
get off at the Toyota Commemorative Museum of Industry and Technology stop in front of the main entrance
Taxi
Five minutes from Nagoya Station
Inquiry
Toyota Commemorative Museum of Industry and Technology
TEL: +81 (0) 52 -551 - 6115
1-35, Noritake Shinmachi 4-chome, Nishi-ku, Nagoya 451-0051 Japan
website
leaflet PDF (orange) leaflet PDF (blue)

(¥1500,A4,130pages)
Contents

[Introduction] Kigumi: The Skills and Knowledge in Jointing Wood

<Plates>
What are tsugite and shikuchi ?
Building a Hand-Crafted Kigumi House|Interview with Akinori Abo
Stacking Kigumi
Creating Kigumi for Temples & Shrines|Interview with Seiki Maeda
European Style
A Stereotomical Dormer -The French Compagnon Guitarde|Patrick Moore Professor, School of 60 Practical Stereotomy
Joinery
The Joinery Craft of Creating Pure and refined elegance Beauty|Interview with Kenji Suda
Kumiko
The Inheritance of Craft -Jointing Artisanship |Interview with Eiichi Yokota
How to make a longer bridge
Using Wood to Build an Arch|Interview with Kumetsugu Ebizaki
Strange Joints
Bibliography
Outline of Exhibition